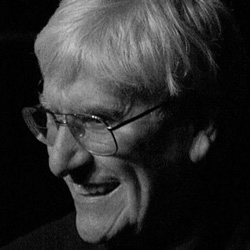 Keith Johnstone is a theatre director, teacher, author and playwright specializing in improvisational theatre. He is a professor emeritus at the University of Calgary, past Associate Director of London's Royal Court Theatre, and co-founder of the Theatre Machine & Loose Moose Theatre Company.
Keith began working at England's Royal Court Theatre in London when George Devine and Tony Richardson commissioned a play from him in 1956. At various times from 1956 – 1966, Keith was the chief play-reader, responsible for the educational work, directed the Royal court Theatre studio, wrote and directed plays, developed the writers group and became as Associate Director of the theatre. With actors he began to explore how to make them more spontaneous, responsive and alive in their work. On the assumption that rather than children being immature adults, adults were atrophied children, he began to question his own childhood experiences. Remembering his schooling left Keith believing that the education system was blunting creativity. Keith wrote a list of rules of 'Things teachers stopped me from doing' then he encouraged his students to do the opposite. His unorthodox technique was a success. This experiment marks a starting point of Keith's work in Spontaneous Improvisation.
Keith has co-founded two legendary improvisation companies. The Theatre Machine, in which Keith and a troupe of actors toured Europe performing improvisation exercises Keith was exploring or inventing on the spot (and often performing for audiences who knew little or no English), and the Loose Moose Theatre Company. Many of these early experiments are now classic improvisation games taught and played world-wide.
In the 1970's Keith was offered a position at the University of Calgary in Alberta Canada. While at the University, he continued developing his work. This gave birth to a small group known as the Secret Impro Theatre who played impro games at lunch time to gauge audience response to the work. This group became The Loose Moose Theatre Company formed in 1977. It was there that Theatresports™ was fully realized, and Keith's other formats Gorilla Theatre™, Maestro™ Impro, and The Life Game were born.
Keith is a well known as a writer. His plays have been produced in Canada,the United States, Brazil and various countries in Europe.


Keith Johnstone passed away on Saturday, March 11, 2023. We invite you to view this link to see recent articles about Keith's life and legacy.
On Sunday, June 25, 2023, a "festive wake" was held in his honor at The Pumphouse Theatre in Calgary. For those around the world who could not attend in person, the festive wake was live-streamed. Click below to see a replay of that Party: