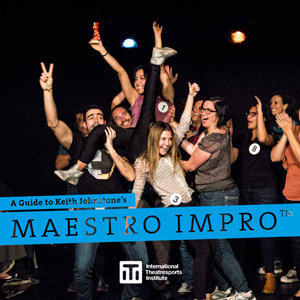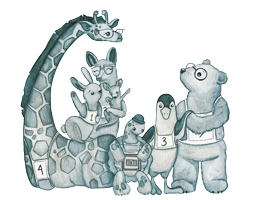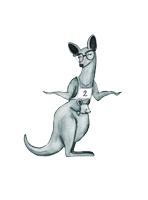 Maestro Impro™ is often described as a 'crash-and-burn-elimination-style' format, that is ideal for a larger group of improvisors of varying skill levels. Each improvisor is given a numbered button, or pinny to wear, and their names appear on the scoreboard next to their number. Two directors (though you can do it with one), take turns randomly pulling the numbers of players to cast their scenes. The Directors are there to inspire the players, help out less experienced improvisers, and to keep the flow of the performance on track. A Host asks the Audience to score each scene out of 5. As the evening progresses, lower scoring players are eliminated, until only one 'Maestro' improvisor remains, often being awarded a simple prize of minimal value.
The director's responsibility for the quality of the work becomes clear as soon as they shout instructions, and perhaps even restart scenes. You might expect this to 'rattle' the improvisers. but these intrusions absolve them from blame. If directors are skilled, Maestro is the least stressful for of public improvisation that we know.

Keith Johnstone's newsletter Gorilla and Maestro (Nov. 98) pg.17
History of MaestroTM
Maestro (formerly Micetro) began at Utrecht (in the Netherlands) where tickets had been sold for a performance at the end of a four-day Summer school. All twenty-six students wanted to play Theatresports, even though this is one of the more difficult impro-forms and most of them were novices ('fools rush in...'etc.). I decided to accept everyone, and then 'narrow the field' in some way that was visibly unfair (so that the ejectees wouldn't have to think badly of themselves).

Excerpt from Keith Johnstone's newsletter Gorilla and Micetro (Nov. 98)
For more information, and a more detailed explanation of How to Play Maestro Impro, the ITI has published a handy guide. To purchase, click here.
To obtain the rights to produce Maestro, click here.
To find out if an ITI Director is available to travel to your group and teach a Format Workshop, click here.